What is Raythe Reign?
Raythe Reign is an independent publisher of dark paranormal m/m fiction and graphic novels. We often call ourselves "American yaoi" because while we are often Japanese-inspired (they brought us sweet, sweet yaoi), we really love action and adventure.
Just think of action-oriented works with some very slashy vibes between the leads, only instead of subtext, the male-male relationships are there from the beginning in our stories.
Romantic, adult adventure fiction.


We have a philosophy of showing everything that happens in our works. This means that there are detailed scenes with sex, violence, and disturbing content that happen naturally during the course of the tale. Our head writer, Raythe, stays true to the story and commits to not letting the most intense moments fade to black — whether they are intimate scenes or more disturbing fare.
While we do not stuff stories full of gratuitous scenes so that we can be called "erotica," we have plenty of scenes in which our heroes celebrate life and love. And we also have plenty of scenes where they slay primal monsters with enchanted swords or shoot giant bugs with enormous guns, and our villains are not for the faint of heart.
In short, we are adult in the same way that a video game rated M is adult.
Our Serial Site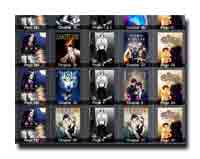 Our main focus is on our serial publication. For the past four years, we have been running serial m/m stories in the urban fantasy, supernatural, and high fantasy genres. Because of our dual focus on the romance and the action, these stories tend to be long — often trilogy-length — but never fear!
The stories do complete, usually within 12 – 24 months.
This is because we put out at least 12 chapters per month — usually around 48,000 words! On non-chapter days, we alternate with manga pages from several talented artists. We make sure that every day, there is something new for members to see or read.